YATSUGATAKE MUSEUM OF ART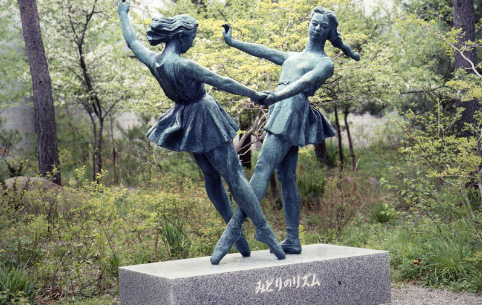 OUTLINE
In 1978, the great leading sculptor Takashi Shimizu donated his works to his homevillage, Haramura. In April 1980, Haramura established Yatsugatake Museum. At the same time, they opened Haramura Rekishi Minzoku Shiryokan (Hara Village Folk History Museum)", since Haramura is located at the foot of Mount Yatsugatake where the unique Jomon culture flourished. You can enjoy the valuable archeological specimens.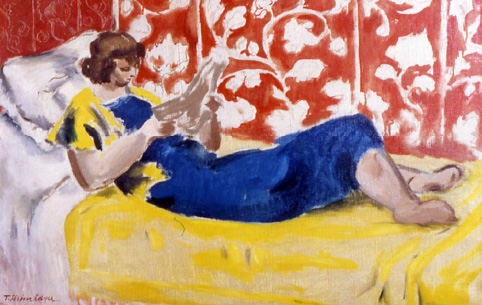 EXHIBITS
■Art Sculptures and paintings … Takashi Shimizu Syo (Japanese calligraphy) … Kakusen Tsugane
■Archeological specimens earthenwares, stone implements of the Jomon Era (Excavations from the Akyu, the Oishi, the Izawaone, the Maeone Remains)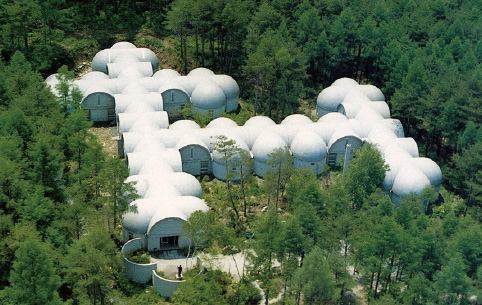 HIGHLIGHTS
■Architecture
Togo Murano, a Cultural Medal Winner, designed this museum. It is in the shape of a dome, and many curves are used. Lace curtains are gathered up and hung down from the ceiling. So you can see the works in soft sunshine and a calm atmosphere.
■Sculptures
The main characteristics of the sculptures by Takashi Shimizu is their unique construction. You can see the series of his works from his maiden work to matured ones in his later years.
■Archeological specimens
They are valuable not only as academic specimens but also as works of art. Please enjoy the contemporary beauty and primitive romantic adventures.
■Nature around the museum
There are larch, Japanese red pine and other kinds of broadleaf trees around the museum. From spring to autumn, you can enjoy about 200 kinds of highland plants. And also, you can appreciate some bronzes in the open air.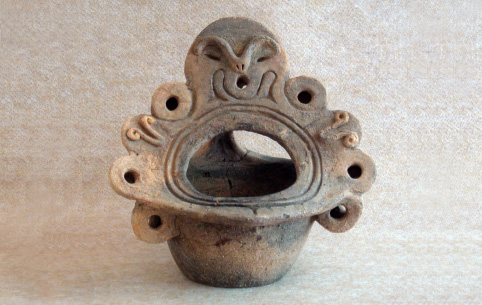 ARCHEOLOGICAL BACKGROUND
About 4500 years ago, in the Mid-Jomon Era, the foot of Mount Yatsugatake was the center of culture. People were using earthenwares and tools made of stone. In making earthenware, people decorated them with a continual rope pattern by rolling a rope on the surface. So we call them "Jomon shiki Doki (rope pattern style earthenware)". There are some earthenwares which didn't have a rope pattern. They were decorated with other tools or hand-scratched designs. Some decorations are in the shape of creatures. Some are spirals or geometric patterns. They were not only the designs but also the expressions of the Jomon people's earnest wishes.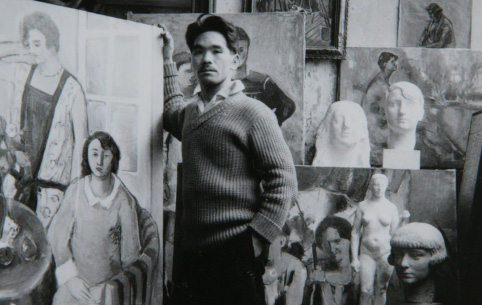 PROFILE OF TAKASHI SHIMIZU (JUNE 27, 1897- MAY 5, 1981)
Takashi Shimizu was born in Haramura. He went to France to study painting, but he encountered the sculpture by Bourdelle and decided to become a sculptor. He was a member of the Japan Academy of Arts and was a Person of Cultural Merits. His words - "The structural beauty connected to nature should be the important point in the essence of sculpture. This structure becomes the basis for a straightforward expression." extraction from "The Sculptures of Bourdelle" by Chikuma shobo